---
One of my favorite mama's - Mandy... is the human behind the cutest clothes on the web, Small Threads.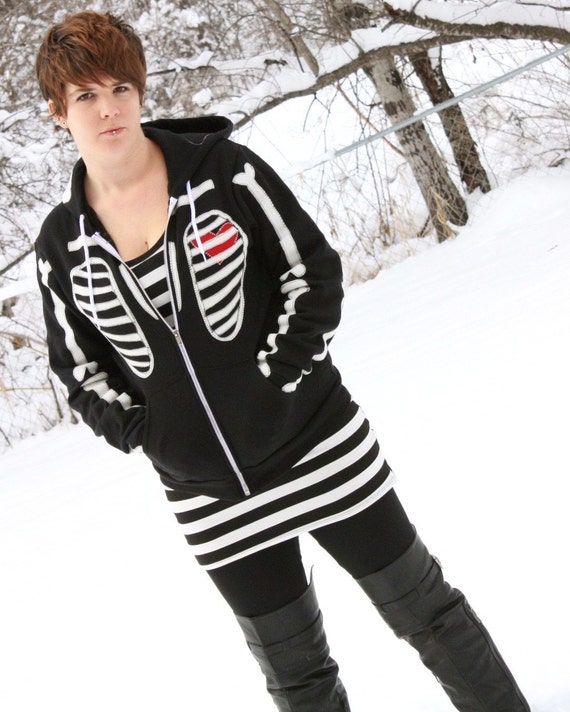 Two of my favorite pieces of clothing were made by Mandy's hands... They get worn ALL THE TIME... And if you stop by her shop, you will even see me modeling my FAVORITE FAVORITE hoodie... The "Bony Mama". The teeny little details are awe flawless. How Mandy has the patience to hand cute all those little pieces... and hand stitch them all on is beyond me. The heart is my favorite, and has perfectly placed little stitches all the way around... The details are what makes Small Threads so special and unique. Even if you ordered 100 Bony Mama hoodies, each one would be just a little different. Another of my favorite
Small Threads
items are her
Small Skivvies
. They are easily the CUTEST thing you could ever put on little boy bums. Ive made a tradition the last few years of getting them Small Skivvies for their stockings every Christmas, and they're always a hit. This year they got the Rock Hand & The Skull and crossbones. Its a strange feeling when you are actually sad when your kids grow out of their underwear... I mean, their just underwear... but I can assure you, I was sad when I had to pull out the first "too small" pair from their drawers. Then again, it was just an excuse to get some more ;)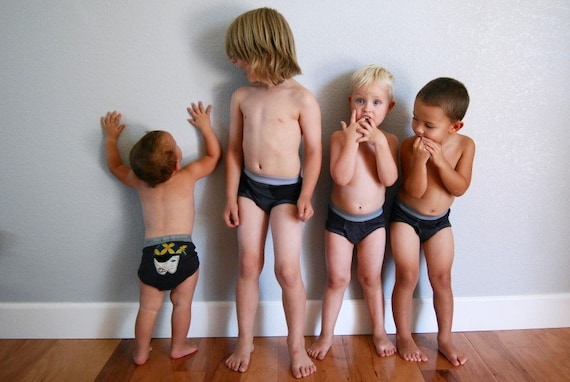 You can even get them for big boys too. One year I had a custom pair made for hubby... The heart and banner style with TG (my nickname) sewn in. He loved them :) Since then I have a nice little stash set aside for Rozzlyn, have given Small Threads gifts, and added to our own collection. No matter what your style is, there is a Small Threads design for you :) Don't have kids? No worries, she does adult sizes and pet clothes too!! Mermaids, Skulls, Cake, and of course... what kind of shop would it be without a Octopus with a Mustache!?!? Don't worry... she has those too :) But of all the cute designs... our favorite has to be the Love mom/dad Heart t-shirts and they're perfect for the upcoming Valentines Day holiday :) But it doesn'st stop there. Not only can you customize that design (like I did with the underwear) Mandy has come up with a new one that says ROCK inside... for all of those baby rock stars that love to rock :)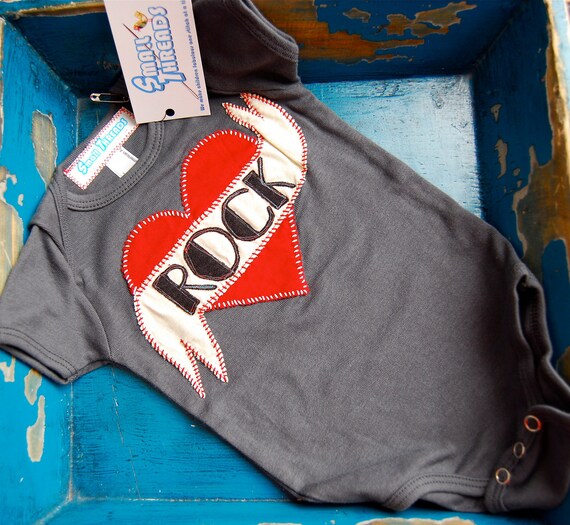 This brand new onesie design is headed to Mrs. Ashley for her shower gift. Isn't it the cutest thing ever!? Im totally jealous. But you don't have to be... why? Because Mandy says, "i will make a custom short sleeve tee or onesie for the winner. Any size 3 months thru 6". This way, no one is left out, and everyone can find something they love that fits their little one...
ALSO - Mandy has so generously offered a 15% discount to all of our readers. Code: RBBSHOWER when checking out. And be sure to look at her "sale" section for ready to ship goodies at a killer price already!
GOOD LUCK!
How to win:
(EACH ENTRY MUST BE IN ITS OWN SEPARATE COMMENT BELOW TO BE COUNTED ACCURATELY)
#1: Heart
Small Threads on Etsy.
#2: Heart your favorite pair of item(s) in the
Small Threads Etsy shop
, then come back and comment below, telling us what you would pick if you won!
#3: Fan the
Small Threads facebook page.
#4: Follow
Small Threads on Twitter
and tweet this message: "Giveaway @RockerByeBaby for a @SmallThreads baby/toddler Tshirt! Enter to win! http://punkrockerbyebaby.blogspot.com/2012/01/giveaway-6-stellarcheri.html"
#5: Fan the
RockerByeBaby facebook page
.
#6: Heart
RockerByeBaby on Etsy
.
#7: Follow the RockerByeBaby blog. (in the upper right hand side.)
#8: Blog about this baby shower giveaway! Linking back to our blog... when you are done come here and comment below with the link to where we can see the post!
Read more →
---
---
---
---
---