EEEEEEEEEEEEEEEKKK!! This is me squealing :) One of my new favorite shops is Sweet Monkey Tots and I am SO SO SO excited she decided to join in on this baby shower giveaway week with us!
A little while back I was on the hunt for a super cool travel wipes case to match my awesome Stellar Cheri diaper bag. I wasn't having any luck finding anything that matched, or even came close to coordinating... right up until I came across Sweet Monkey Tots... and its pretty easy to say I fell in love. She was so sweet and quick to respond... offered to use any custom fabric out there (like the one that MATCHED my diaper bag... ) and we designed it exactly how I wanted it to be. Down to the font on the monogramming... and the trim.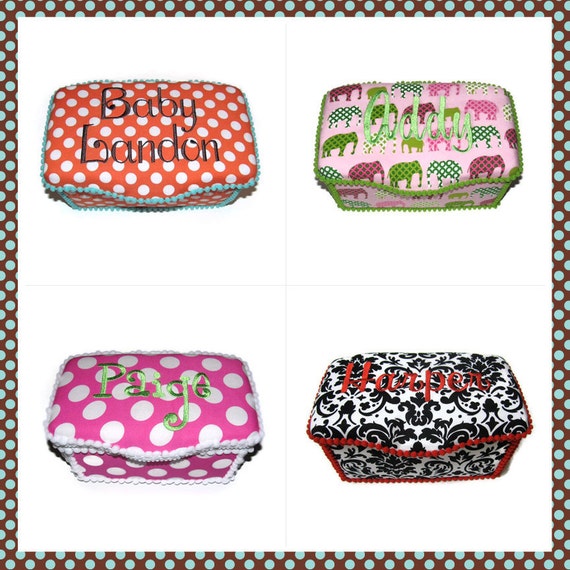 In the end I was so beyond thrilled with the final result. When it came time to put her nursery together, we designed another custom wipes case, but this time the nursery tub style to match her room. We picked a super cute Pink, Black & white damask print that I actually have mixed into her bedding... and the fun little pompom trim you see above. It turned out adorable and I couldn't possibly be happier with the quality & customer service that Stephanie provides. Also, the packing is over the top professional. But you will just have to order and see for yourself :) She has some ready to ship items for the wipes cases... but LOADS of custom listings and options... so I know she will help you find exactly what you need :) If you aren't in the market for a wipes case, you should still check out her shop. She has some great gift options like hooded towels, pacifier clips, burp rags, and the cutest bibs ever!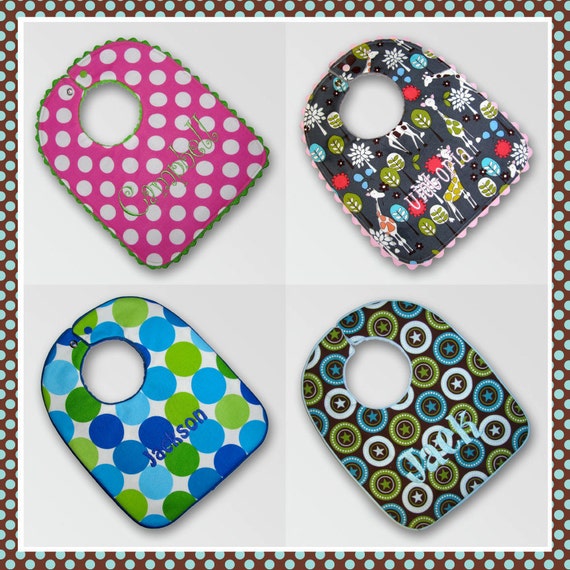 All of her adorable monogramming makes me want my own machine! Ahhh, I can dream :) "Sweet Monkey Tots is your one stop shop for handmade essentials for special tots! I strive to make my items boutique chic with a touch of monkey sweetness! Come on in and browse for a while. I am sure you will find something for the special tot in your life!"
Now that you see my obvious love for Sweet Monkey Tots... I suppose I should show you the SUPER CUTE case she made for Ashley's nursery :) Its an awesome fabric from the Joel Dewberry collection. In black, granite, and yellows.  Using a pewter colored GIMP (trim). It turned out beautiful.
And lucky you... one winner will receive the custom wipes case of their choice. Valued at $25.95...
How to win:
(EACH ENTRY MUST BE IN ITS OWN SEPARATE COMMENT BELOW TO BE COUNTED ACCURATELY)
#1: Heart
Sweet Monkey Tots
on Etsy.
#2: Heart your favorite pair of item(s) in the
Sweet Monkey Tots Etsy shop
, then come back and comment below, telling us what you love!
#3: Fan the
Sweet Monkey Tots facebook page
.
#4: Fan the
RockerByeBaby facebook page
.
#5: Heart
RockerByeBaby on Etsy
.
#6: Follow the RockerByeBaby blog. (in the upper right hand side.)
#7: Blog about this baby shower giveaway! Linking back to our blog... when you are done come here and comment below with the link to where we can see the post!