---
It would be near impossible for me to choose a "favorite plush" from my *ahem* sorry... Rozzlyn's plush collection. But I gotta say, in a sea of pink, black, and lime green - our new punky owl from My Little Feather stands out...
I have been a huge fan of My Little Feather from the moment I first say her OH SO CUTE pirate owls... I mean seriously, how can you not love them!! In an Etsy world full of plush, My little Feather has really found her niche and made them her own. If you havn't yet - be sure to
"like" her on facebook
so you can see the new plush as the are posted. 
When My Little Feather contacted my about a revie I literally squealed with delight. I had already showed her a ton of love just by seeing her awesome product online... but the idea of getting my hands on one! LOVE!!! We worked together to come up with the perfect one to match Rozzlyn's room. 
The colors and prints coordinate perfectly with her bedding... 
 I love the color of pink that she used in the felt and on the wings... and just the little pops of lime green...
And if you noticed.. the scribble skulls print is one I used in her quilt and her bumpers!  How cute is that little r on the butt?! That was an awesome surprise I didn't see until I got it in the mail. The quality that comes from this shop absolutely blew my mind. Each stitch is perfect... every detail is carefully thought out... creating a high-quality item thats worth every penny... and the price? Totally reasonable for a plush of this size. *which makes me happy as I consider my next owl* I just love watching Ms. Rozzlyn inspect the different prints and textures... 
Her little fingers are too cute feeling the textures of the buttons and threads. 
My next purchase most definitely has to be one with glasses and a mustache... what?! Hipster owl?! Oh yes... she makes those too ;)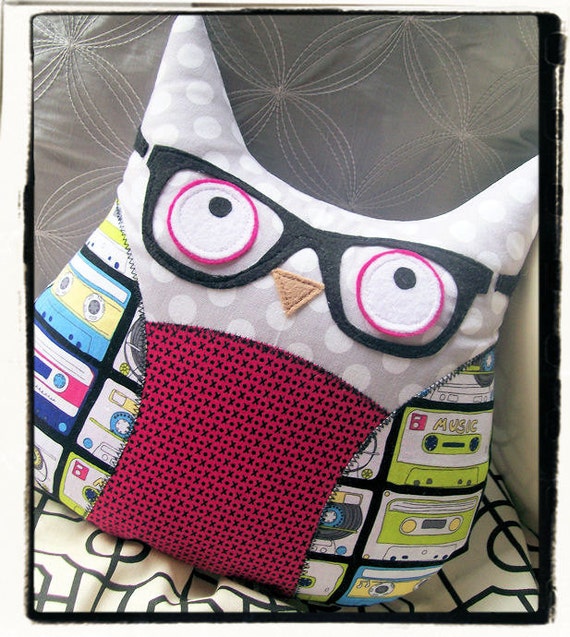 So - needless to say... Ms. Rozz approves completely...
Read more →
---
---
---
---
---