I am a HUGE lover of all things handmade & plush - and
TZBurps
is no exception to that. This shop specializes in the CUTEST owls and birds out there.
"TZ Owls and Birdz! --Top 4 reasons they are the BEST and different from other owls: 1. made of all fleece which makes them 2. super soft to snuggle up with 3. machine washable-no spot clean only and 4. since all owl parts are fleece and sewn on anyone any age may enjoy them. Perfect to cuddle up with, use as a pillow or a decoration. You can create your own owl/bird or purchase ones that are ready to leave their nests!"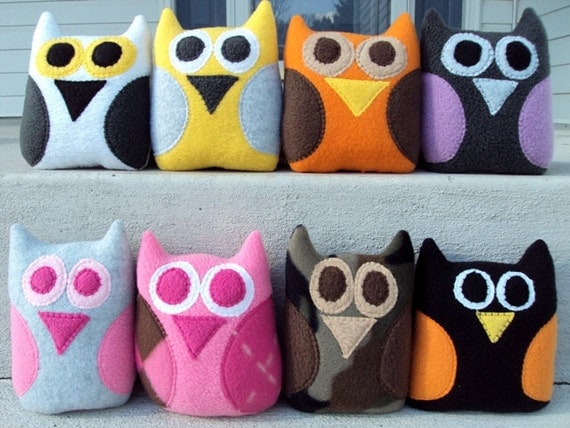 I am absolutely in love with the quality and squishineas of these little guys... Im thinking that we will definitely have to add one to Rozzlyn's collection! They are affordable on any budget... the mini's are just $12-$14... and they go up in size style to around $40. She also has some mini options made of minky dot, that have crinkle paper, squeakers and some cute ribbon tags to be used as a great sensory toy!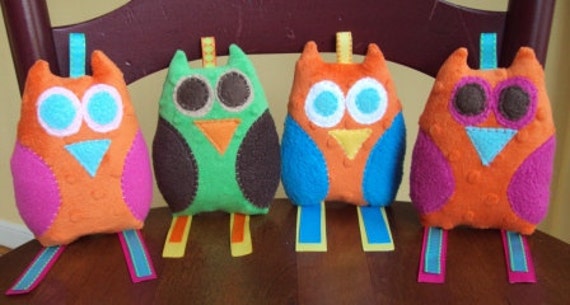 Since this is a shower/giveaway for Ashley, her special contribution was this little guy below... The cutest little yellow and gray owl (to match her nursery of course :) I can see him propped up in the corner of a crib... just waiting to be snuggled by the little man...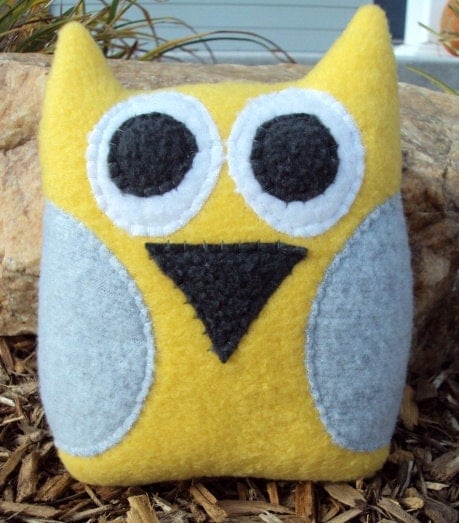 One lucky winner of this giveaway gets the mini owl shown above, but in their custom choice of colors for the body, wings & nose :) Good luck!
How to win:
(EACH ENTRY MUST BE IN ITS OWN SEPARATE COMMENT BELOW TO BE COUNTED ACCURATELY)
#1: Heart
TZ Burps on Etsy
.
#2: Heart your favorite pair of item(s) in the
TZ Burps shop
, then come back and comment below, telling us what you love!
#3: Fan the
TZ Burps facebook page
.
#4: Follow the
TZ Burps Blog
.
#5: Fan the
RockerByeBaby facebook page
.
#6: Heart
RockerByeBaby on Etsy
.
#7: Follow the RockerByeBaby blog. (in the upper right hand side.)
#8: Blog about this baby shower giveaway! Linking back to our blog... when you are done come here and comment below with the link to where we can see the post!