So my lucky duck boys got to spend their Spring Break in Florida with Nana & Papa. They came back on the night of St. Patricks day - and I figured after Florida... how could I compete with that??? I left work early and hit the store - trying to come up with any fun green ideas I could as fast and cheap as possible - while still putting together a real meal... Let the Montage begin...
Green Mini Pizza's: I bought Grands Jr's... Squished them out... sponged them with green food coloring... Baked them for about 5 minuts... topped them with their favorite pizza toppings and then baked for about another 7 minutes.
Sugar Free Cupcake Mix - Green Food Coloring - White Frosting - Green Sprinkles.  Instant festive treats that were the highlight of the night :)
A little green Pizza for Ms. Rozzlyn & some pears on her favorite green
sectioned Nuby plate
.
The boys had their green pizza - some Green pouches of applesauce - on green plates... with some green strawberry kiwi natural sparkling water.  (They thought their "soda" was SOOOOO cool and little did they know it had none of the usual junk soda does.)  
And they each got a goodie bag full of random green treats... I gotta say - I hit this holiday out of the park... they were SO SO happy with their surprise St. Patrick's Day "party".
Read more →
---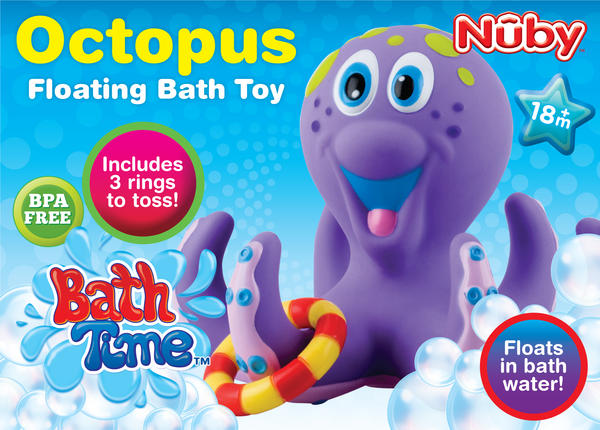 We're a huge fan of bath time in this house... and all of our toys have pretty much been replaced by Nuby. I've always had an issue with cheap toys that suck in water and get slimy and mildew in them. Gross. Nothing worse then squirting a toy at a baby and a chunk of who knows what comes out... not cool in my book. When I became a Nuby Mommy Blogger the first things on my list were new toys and Nuby has gone ABOVE and beyond my expectations. I have been so thrilled with every single one of them.
The newest one on our list has been the Octopus Floating Bath Toy... It sits on top of the water and comes with three little rings that you toss onto its arms. Ms. Rozzlyn LOVES it. Its easy for her to hold on to - which is great because the first thing she wanted to do was poke and touch all the little bumps.
Its great for hand/eye coordination while she tries to put the rings on the arms... and of course even the older boys have fun making a game of it too. I definitely recommend getting your hands on one of these! They're made to last and you won't be sorry :)
Currently available:
Amazon - http://www.amazon.com/Nuby-Octopus-Bath-Time-Toss/dp/B008CDR7LW
Sears - http://www.sears.com/nuby-octopus-bath-time-toss/p-SPM651109014?prdNo=1&blockNo=1&blockType=G1
Get social with nuby! They are always going amazing giveaways so be sure to follow them! www.facebook.com/nubyusa www.twitter.com/nubyusa www.pinterest.com/nubyusa www.instagram.com/nubyusa
Read more →
---
*sings* Summer Lovin'... had me a blast...
What a fun weekend! We spent pretty much the whole day outside...
We did water balloons...
*spent about 20 minutes filling them... and they were gone in 3 minutes*
but it was a blast and worth every second!
*Izzaq - Gracie - Zavery*
Then we pulled out the sprinkler... and the kids spent about an hour chasing Gracie around. They both absolutely adore her... and are convinced every day that she has to choose which Zrust boy she will marry... Im so not ready for this - and am doomed by the time they turn 13.
Ladies First!
Lastly - after almost drowning while trying to drink from the sprinkler... we headed in for the day for a family movie night... what a great day... don't you wish sometimes that real life could be this? Just playing and fun... no worries, no bills, no work... just. summer. lovin'.
Read more →
---
---