---
My little sister is obsessed with Mustaches... who isn't? They're funny. The tickle... they make boys going through puberty look like they're almost young men... and they make men who can't grow one properly *ahem, like my husband* look like little boys going through puberty. Old men love them, I know women with them tattooed on their fingers, kids love to have them painted on their face, hipsters think they're cool... and the list goes on and on...  So it was no surprise to me when the mustache trend hit Etsy. But of all the hundreds... no... THOUSANDS of mustache items on etsy, what you're about to see if one of my favorites.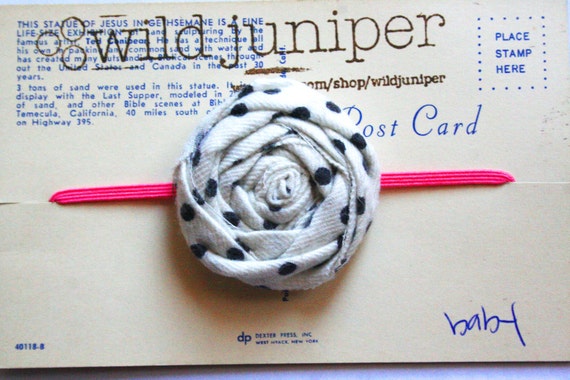 While strolling through Etsy the other day, I came across the shop,
Wild Juniper
... and I can truly say it was love at first sight. The mama behind Wild Juniper very obviously has some talent. Her shop is overflowing with adorableness as fas as the eye can see.  One of my favorite things to buy for Ms. Rozzlyn are the cute headbands with the fabric roses... I think they are so super cute and shabby chic and add the perfect touch of girlie-ness to my bald baby. :) This one most definitely needs to be added to our collection. And how cute is that packaging???? I love the post card :) So clever! But the real reason we are here, is because of her SUPER adorable
mustache onesie
. I fell in love the second I saw it. I absolutely love the shape of the mustache, but my favorite part is the textured brown fabric gives it a more dimensional look as opposed to just your boring brown cotton.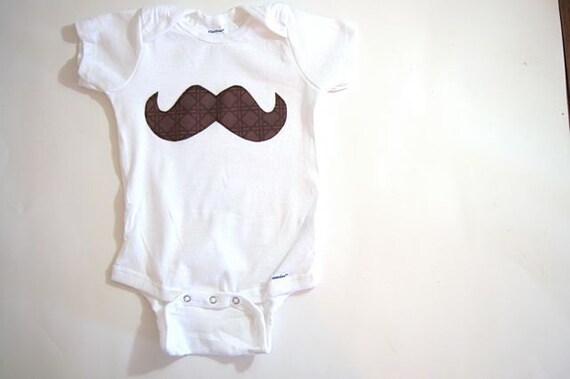 Cute right?! Well, Wild Juniper has been so generous as to send one for Ashley. For those of you that don't know, Ashley is a photographer... and I can already see a photo of her little man snuggled in a sea of brown, wearing this onesie, and a tiny little mustache... haha. Now, hopefully you love this mustache onesie as much as I do, because Wild Juniper is giving one away to the winner as well! The winner will get the onesie shown... in one of the sizes below.
The sizes available include: nb, 0-3m, 3-9m, 12m and 24m
How to Win:
(EACH ENTRY MUST BE IN ITS OWN SEPARATE COMMENT BELOW TO BE COUNTED ACCURATELY)
#1: Heart
WildJuniper on Etsy
.
#2: Heart your favorite item in the
WildJuniper Etsy shop
.
#3: Fan the RockerByeBaby facebook page.
#4: Fan the
WildJuniper
facebook page.
#4: Heart RockerByeBaby on Etsy.
#5: Follow the RockerByeBaby blog. (in the upper right hand sidebar.)
Read more →
---
---
---
---
---