I have a lot of favorite nuby products... but Im can confidently say this one is at the top of that list...
Now that I am working out of the house and Daddy is home taking care of the kids - I like to make things simple for him... part of that is prepping meals for Baby Rozzlyn...
The Nuby Easy Grib Bowl
makes that SO SO easy... Its has two sectioned parts and a lid designed for steaming... it can literally go straight from the fridge to the microwave. Today I had pasta on one side and green beans on the other... I popped it in the microwave for 20 seconds... and when it came out it was perfectly steamed and ready to eat. No mess... No fuss... just an easy, healthy lunch for the princess.
"Our sectioned Easy Grip™ Bowl is perfect for feeding time because it is easy for mom to hold and has multiple compartments for different foods. The soft ergonomic design of the thumb rest allows the bowl to be held with either hand in a comfortable and more natural feeding position. It comes with a seal-tight lid that features an automatic steam vent which allows the sealed bowl to be microwaved safely. This unique feature prevents nasty splashes in the microwave and allows the bowl to go from refrigerator to microwave without any problems."
Read more →
---
Last week we had the opportunity to try out the
Nuby One Touch Electric Warmer and Sterilizer
- and it couldn't have come at a better time... this winter has just been a vicious cycle of colds, flus, and stomach bugs... and the best way to stop that train in its tracks? Getting rid of the germs...
My favorite feature about this gem is that it sterilizes all the little pieces that go directly into Ms. Rozzlyns mouth... pacifiers, bottle nipples, etc. So when were battling the germs... just popping the paci's into the sterilizer is an easy way to get them all germ free in minutes. All you have to do is pour the required amount of water into the base, insert your items, and hit the button... and it shuts off when its done. Its that simple!
And when you're done - it doubles as a warmer for bottles and jars of baby food. This is a MUST have for any parent... and definitely something I can see using long after were done with the baby phase. There are always small things that need sterilizing... and it works great for all the sippy cup parts too!
"The 2-in-1 design of this Natural Touch™ Warmer and Sterilizer evenly and safely warms breast milk, formula and baby food. Or you can use it as a quick and easy-to-use sterilizer for bottles and pacifiers. It sterilizes in just minutes! Simply use measuring cup (included) to add water, load the sterilizer and touch the button to start."
Read more →
---
Sometimes even I need a break... and starting LATE Wednesday night, I took one. After a 6 hour road trip to IL with a crying 6 month old, a 4 year old, and a 5 year old with an ear ache... at 3am we were on "vacation"... I headed home to visit family for a few days while Zaq is in Europe with Motion City Soundtrack. *lucky goose* I figured, why stay home alone when we could take a few days off. The days off of course, still involved tons of emails for work, and running from one place to another... but still great none the less... Its always hard living out of a suitcase with 3 kids. Between clothes, diapers, food, and feeding... with a baby it can be a nightmare. So - I wanted to take a second to share my MUST HAVE ITEMS when I go home with the kids.
MY LIST: In no particular order...
*
Bumbo
: It replaces the need for so many things... I feed Rozzlyn in here... Its also a great tool just to sit her down to play for a bit if I need both hands... Its light, small, and easy to bring place to place... *reminder: always keep the bumbo on the floor for safety reasons*
*
gDiapers
: I am a cloth diapering mama - but man, on the road it can be tough... and when I am home visiting I have ZERO time to do diaper laundry... so gPants are a great way to still use cloth, but get the convenience of disposables at the same time. YAY Eco-Friendly!
*
Plum Organics
: With baby Rozz, I have chosen to make my own baby food. I have SO SO much fun doing it... but traveling, there was no way I was going to bring a bag of fruit and vegis, my blender, all my storage, ETC. So I needed another solution... Plum Organics pouches were AMAZING! Such quality, organic baby food... So easy to squeeze from the pouch into a bowl, and recap if she didn't feel like finishing! Its so great to know there is an affordable, easy, organic option on the market that comes in all the great flavors I love to make at home.
*
Nuby Easy Go Suction Bowl
: MY LIFESAVER! This little contraption was my lifesaver... and Im not even exaggerating. It made feeding SO SO convenient. When we were headed out the door I would pour a little cereal into the bowl, cap it with the super tight sealing lid, and snap the spoon into the top. Everything was in one spot and easy to grab. When I was ready to feed her I would fill it with the Plum baby food... mix it up and feed her. When she was done, I would just re-cap and toss the rest in the fridge. THANK YOU NUBY for such an amazing product.
*
Diaper Bag
: Shameless plug? Maybe... but its true. I don't know what I would have done without my awesome diaper bag. Its an exclusive line by Stellar Cheri made JUST FOR RockerByeBaby... you can't get this anywhere else, as this specific pattern was made exclusively for us. And let me tell ya, its perfect! It was plenty big to hold all randomness that makes its way in there while you're on the road. But not SO BIG that you feel like you're carrying your suitcase... I definitely recommend grabbing one from our shop! They're custom made to order... so if you need a different print, just ask!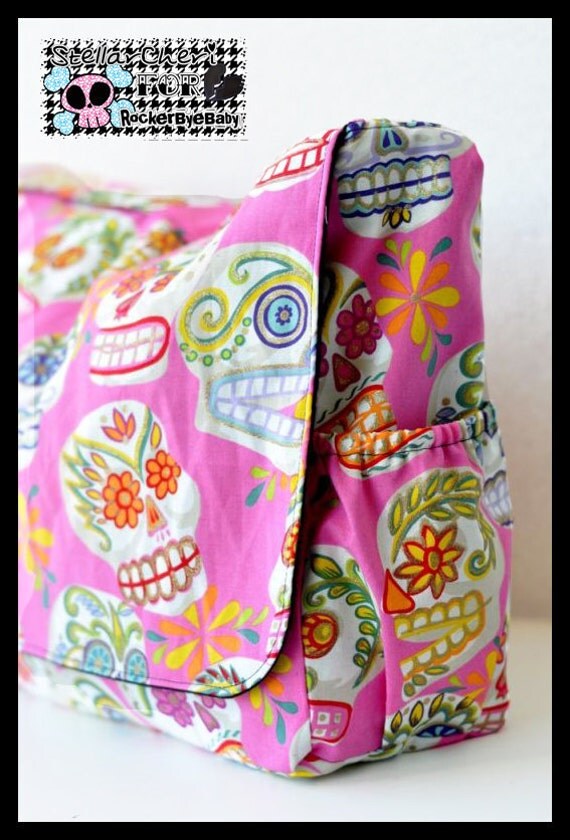 Well! Those are my 5 absolute must have's for travel... I hope you find some (or all) of these goodies to be useful on your next road trip! If you have them (or get them), we would love to hear what you think! And of course - if you have any other traveling tips we would love to hear them!!
Read more →
---
---