Here we go again!
Review number two and were in LOVE...
http:/www.RockinMamaBG.etsy.com
Super cute onesies...
Super cheap onesies...
and of course... awesome prints...
SO my very very favorite things in her shop...
Her diaper bags...
they totally rock...
Tattoo prints...
vintage prints...
Rockabilly prints...
punk rock prints...
Baby booties...
same thing...
and just $8 a pop!
W all get sick of those cheezy crib shoes from target...
Rockin Mama BG shows us a better way!!
Now, lets get to the review!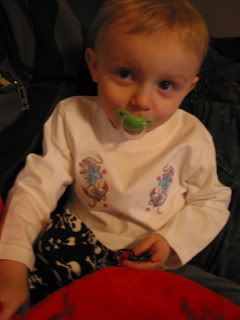 First thing I noticed, is Izzaq's t came on a high quality Garanimals tshirt...
They're thick... they last, and they hardly shrink. YAY!
His shirt featured an awesome tattoo'd theme...
Sparrows anchors and stars... like a chest piece...
they have a cool vintage fade to them...
I havn't had a chance to wash them yet...
but a nice perk was that she gave very detailed instructions about washing them...
As RockerByeBaby loves, its simple...
Throw it in the wash... cold water...
pull it out right away though... So there is no bleeding of the screen...
Hang it up... and ta-da... a clean Rockin Mama onesie...
She also said the screen softens with washing!
sweet...
Ill update after I wash it... Izzaq's wearing it right now :)
So, the part youve all been waiting for...
WHAT DO YOU GET!?!
You get... 2 onesies... TWO!!
One with skulls and cherries... one just like izzaqs!
Both sized 0-3 months for your teeny tiny peanut!
Keep them for youself...
Give them to a friend... whatever you want!
So check her out...
Rockin Mama BG
and you know the drill...
Leave comments to be entered into the contest!!
http:/www.RockinMamaBG.etsy.com
new EtsyNameSpace.Mini(6295716, 'shop','thumbnail',4,4).renderIframe();