Wow - It has been a LOOOOONG two weeks. I got sick with the absolute WORST cold I've ever had on December 28th... here it is January 8th and I am still fighting off the sniffles, aches, and pains... In that two weeks Zavery got sick, Rozzlyn got sick... Izzaq got sick - and daddy got it at the end of the cycle. I would not have survived without the natural Hyland's baby and kids cough & cold products!
Everyone is slowly getting better... which is good, because I am out of time. I HAD to get back to work. The nice thing about being self employed is that if you have to take some time off, you can - if You're organized... The problem with being self employed is that if You're not working... nothing is getting done. So here I am! Back at it... sniffling and hand sanitizing along the way... Check out the shop! I've got a few new goodies listed and a brand new Harley Davidson inspired crib set for you to drool over! Bikers beware! If you don't have kids - this bedding may make you want some! ha!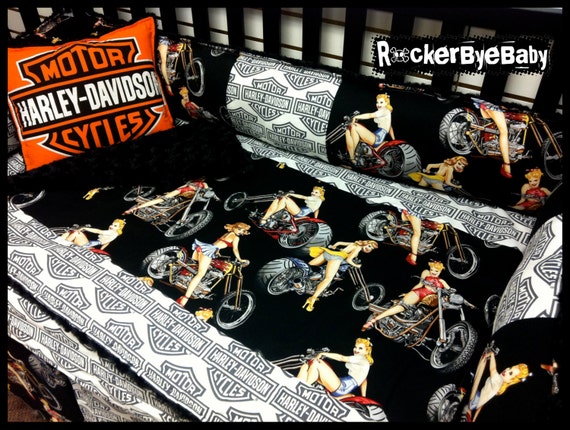 Read more →
---
So as Im sure 90% of you have heard me complaining on twitter.... but for those that havn't, my kids are sick... :( Poor little babies got colds.... pretty bad ones too. I have gone through so many Booger Bashers... had to wash blankies... warm Boo Boo packs... make soup... tea... and the list goes on.... so I thought it would be fun to compile a list of the must haves to get through a toddlers cold :)
*click the photo to zoom in for a closer look!*
#1L ShaynaPunam -
Cold & Cough Balm
... I did a giveaway for this store a LONG while ago... and i STILL use the product. Unlike Vicks or a convenience store rub, this is gentle, with natural ingredients... and can go on their chest, back, or even under their nose.
#2:
RockerByeBaby
- Booger Bashers, they are a MUST for any cold, flu... or even just slimey drool... all babies, toddlers, & mommies need a set in their diaper bag :)
#3: PrimitiveEarth: Yummy Organic Lavender & Mint Tea." All-natural, organic and fair trade teas are used in this blend." I tricked the boys into drinking some lavender tea & added a little orange juice so it tasted like something they were used to. It was perfect... calmed them down and got them to relax...
#4:
MezzaLunaBodycare
- Sick Puppy Playdough, genius... i have not ever had the pleasure of using this product, but wow... what do you do with your crabby sick irritated, antsy toddler? Give him/her this paydough to play with... their entertained and soothed with eucalyptus and rosemary all at the same time.
#5:
Isas7ada
- Doctor Nurse & Patient wooden toys... this year we are all about wooden toys... and with sick toddlers these would fit right in... Anyone wanna play hospital!? *PLEASE zoom up the photo to take a close look at this one ;)*
#6:
The Crazy Elephant
- Totally Rockin Skull Owie Fixer... NOt only do we have toddlers with aches and fevers... but we hav a clutzy little one that bumps and thumps all day long. These come in handy. I have 2 from
BabyBooFelt
, hers rock as well, just none in stock. Just ask! Im sure she will whip one up for you :)
#7:
MEandREEKIE
: Black Pirate Bootys - I have posted about these before... but Zavery is obsessed... and in his whiney sick mode, trying to keep these booties away would be a HUGE mistake, lolPlus, they keep him warm which keeps him happy... in turn, making mommy happy.
#8:
BrookeVanGoryDesigns
: Green Gory Pants... We love our Gory pants... They're eco friendly... soft & snuggly... TOTALLY washing machine friendly... and made upcycled from the most perfectly broken in t-shirts :) An absolute must for a recovery week of lounging & snuggling.
#9: Me again.... I hate to do it AGAIN, but yes... they can NOT live without their
RockerByeBaby
blankets... seeing as they have been wrapped in one since the day they were born, haha They have become QUITE attached. One night, Izzaq, in a coughing fit threw up a little on his blanket. It was a TOTAL meltdown, because naturally I had to wash it... well, there was no satisfying him with any other... he wanted his "b".... *note to self - make a duplicate with the exact same thread... stains, and wear marks... lol
Read more →
---
---