I had spent some time going through Nuby products and reading reviews and I was super excited to try this one out... the
Nuby Tear Free Rinse Pail
.
Rozzlyn is 18 months old now and like most kids, doesn't really love water in her eyes... What's funny - is my middle son, Zavery (5) hates it even more... So as great as this works for Rozzlyn, its even more perfect for Zavery. He says, "I hate when soap gets in my eyes because it hurts and makes my eyes hot." The Tear Free Rinse Pail has been great at assisting us with bathtime. "It features a comfortable grip for mom, a deep, slender base for easy filling in shallow water and a unique tear-free edge. The tear-free edge is soft and contoured so it can be gently placed against your baby's skin to help prevent water from running into your baby's eyes while rinsing their hair." Its a must have in the tub. The only problem I have it that it can be a little tricky to get it positioned in the right spot. 
Example: See left... If it isn't pushed up against the skin when you pull up to dump the water it will drip...
However - if you raise it up a bit on their heads, and push the silicone firmly but gently against their skin it creates a nice little seal - preventing the water from passing through.
Overall - another great Nuby product! How could I ever be disappointed when they make so many of great products.
Want one of your own?
 • www.BuyBabyDirect.com
• www.cookieskids.com
• www.amazon.com
• www.idealbaby.com
• Kmart
Get social with Nuby! www.facebook.com/nubyusa www.twitter.com/nubyusa www.pinterest.com/nubyusa www.instagram.com/nubyusa 
Read more →
---
Wow - It has been a LOOOOONG two weeks. I got sick with the absolute WORST cold I've ever had on December 28th... here it is January 8th and I am still fighting off the sniffles, aches, and pains... In that two weeks Zavery got sick, Rozzlyn got sick... Izzaq got sick - and daddy got it at the end of the cycle. I would not have survived without the natural Hyland's baby and kids cough & cold products!
Everyone is slowly getting better... which is good, because I am out of time. I HAD to get back to work. The nice thing about being self employed is that if you have to take some time off, you can - if You're organized... The problem with being self employed is that if You're not working... nothing is getting done. So here I am! Back at it... sniffling and hand sanitizing along the way... Check out the shop! I've got a few new goodies listed and a brand new Harley Davidson inspired crib set for you to drool over! Bikers beware! If you don't have kids - this bedding may make you want some! ha!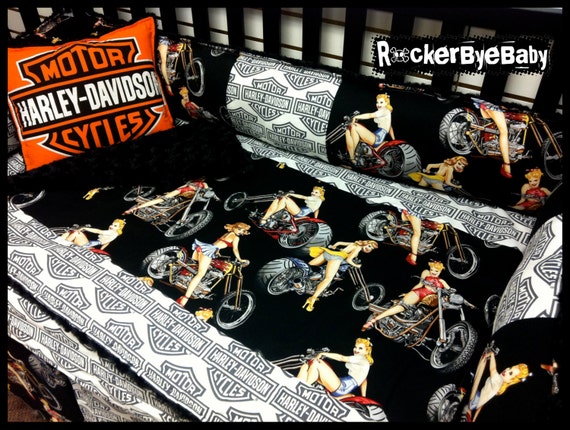 Read more →
---
---