Every time I do one of these showers, or host a big giveaway - there are always a few people I secretly hope will join in on our fun. For starters (and perfect for the #1 giveaway)... is
Me & Reekie
. We are a huge supporter of her in the Zrust household. Maria, the talent behind
Me & Reekie
is amazing. She is one of the sweetest people I have ever had the pleasure of working with... so giving, so passionate about what she does, and most of all she is beyond awesome at her craft.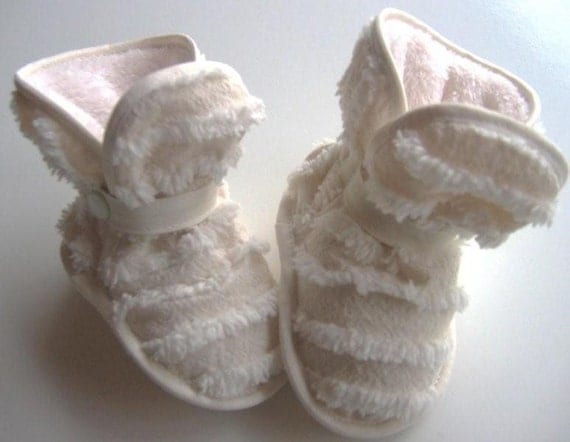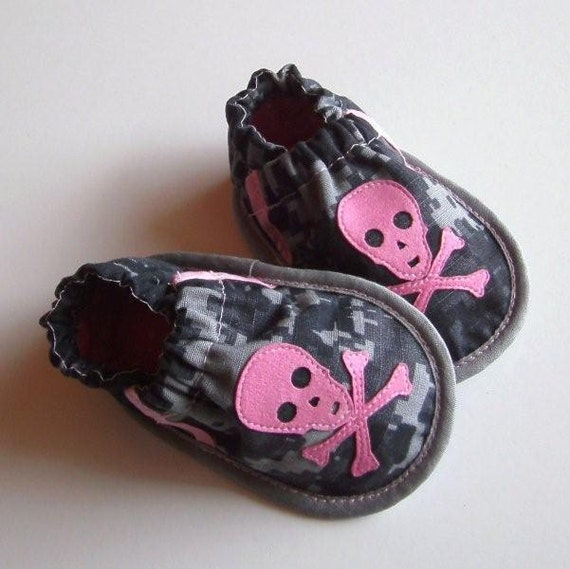 Me & Reekie is a shop full of adorableness... When you first find your way over to her store, you will see cute skull & crossbone onesies and tank tops for the kiddos... knitted slippers for mom... newborn hats... but my favorite, FAVORITE items in her shop are her Boot-ys... They come in all different colors... fabrics from canvas to chenille... hand sewn prints like lady bug dots to skull appliques. In our house, I believe we have 4 different pairs of the skull ones. A gray pair... a black and white pair... and 2 sizes of the black and pink ones. You could say I highly recommend them ;) One the newest changes I have seen in her shop is that she now offers three different boot heights. A "summer slip on" style, a 
mid-rise, a tall knee high boot. And of course, all are equally adorable. My favorite thing about these boot-ys is that of all the shoes I have for my kids, as babies, these are a great fit and they actually stay on their feet! It seems like even the size 1 crib shoes for baby Rozzlyn get kicked off in a matter of minutes. Not only are they super cute... but they're functional AND cozy. "Booties have grey cotton denim on the outside, fuzzy fleece on the inside, next to the babies skin. Elastic in the back, around the ankle and a snap closure. Bottom is made of ultrasuede. All seams are enclosed in grey bias tape to ensure the utmost comfort of your babies tootsies!" I highly recommend that pick up a pair... or 3... and maybe a pair for yourself too ;) Now enough rambling... on to the fun stuff!! Maria has so sweetly given Ashley these adorable gray Boot-ys... perfect for her little man arriving soon.
And of course, since this is a giveaway, one lucky winner will get a pair too! The winner of this giveaway gets their choice of boot-ys... in any size ranging from newborn - 3 years... so good luck! Anyone would be lucky to receive these cute, snuggly shoes.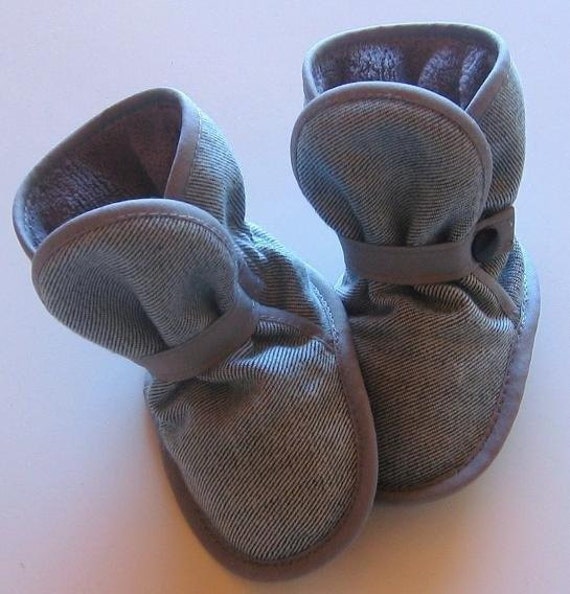 How to win:
(EACH ENTRY MUST BE IN ITS OWN SEPARATE COMMENT BELOW TO BE COUNTED ACCURATELY)
#1: Heart
MEandREEKIE
on Etsy.
#2: Heart your favorite pair of booties in the MeandREEKIE shop, then come back and comment below, telling us which one you would choose if you win.
#3: Fan the
RockerByeBaby facebook page
.
#4: Heart
RockerByeBaby
on Etsy.
#5: Follow the RockerByeBaby blog. (in the upper right hand side.)
Read more →
---
This weeks giveaway totally blew my mind. And, im SO sorry that it took me so long to get it going... its just been so crazy around here as you all know. BUT I hope you can all forgive me when you see this giveaway!!!
This week, we had the privilege of trying out a pair of black & white skull Booties from
MEandREEKIE.
When I saw them in her shop, i thought they were quite possibly the cutest things i had ever seen. And at the time, her new little shop only had 19 sales!! I knew I could help to change that, and here we are. She graciously sent me the most amazing pair of shoes my boys have ever owned. The photos do not even do them justice. I opened up my package and honestly just couldn't believe it. The quality is by far some of the best I have seen on etsy... the materials? Top of the line... Every detail is perfection... "Boots have black cotton duckcloth on the outside (denimlike weight), soft, fuzzy, ivory fleece on the inside, next to the babies skin. Skull and crossbone ultrasuede applique are cut and sewn by me! Elastic in the back, around the ankle and a snap closure. Bottom is made of ultrasuede (ivory for smaller sizes, black for those over walking age). All seams are enclosed in bias tape to ensure the utmost comfort of your babies tootsies! These booties will not fall off! Guaranteed to last through your next child as well :) Available sizes, Newborn, 6, 9, 12, 18, 24 months, and 2-3 years" When she mentions the "fleece" inside i really think its an understatement... to me its like a Minky Lambie... it is soft like butter... so squishy... so warm... and totally baby approved. How do I know? Because ever since they came in... zavery spends about 3/4 of his time wearing them.
The other night was a TOTAL meltdown because I took them off to change his diaper and put on jammies... footie Jammies... well he wasn't having ANY of that, and made me put the booties ON TOP of the footies... can you believe it? Its a true story. I couldn't help but laugh and think.. i totally have to mention this in the review, lol.
Not into the black and white skull booties? (is that possible? lol) Have no fear... there are SO many other options in her shop...
First off, the girlie version.... Pink with a gray skull.... ADORABLE!
You can create your own... Gray denim w/ your choice of fleece... "FLEECE CHOICES - please specify when ordering:
white, ivory, light yellow, bright yellow, light blue, aqua blue, navy blue, bright pink, tangerine, burnt orange, red, lime green, olive green, forest green, lavender, grape, burgundy, eggplant, brown, black."
And my personal favorite (aside from the b&w skulls) Is the black with the red check/houndstooth..
I really recommend these 100% to anyone with a kid in the newborn to 3 range. Zaq has even been requesting a pair for himself... first thing he said... I wish i could have skull booties like that!! Maria? Christmas perhaps? lol could ya make that happen?
Well anyways - I know what you guys want... your prolly thinking... GET TO THE GOOD PART! WHAT CAN I WIN!? Well, one of you lucky readers get to pick your choice of one pair of
booties
valued from $19-$22. Be it skulls, or flowers... or something custom... its just for you :) And obviously, you choose your size as well. Could it get any better? No way... :)
So go! Enter!! Win!!
Extra entries?? But of course :)
EACH ENTRY MUST BE LEFT IN A SEPARATE COMMENT TO COUNT!!!!!
#1) Leave us a comment telling us your favorite Booties and which ones you would want to win!
#2) Follow us publicly here on (blogger) - Leave a separate comment for being a (old or new) follower on our blog.
#3)
Follow/Tweet us (Twitter)
- Leave a separate comment for being a follower and TWEETING about this giveaway on Twitter... If your already a twitter follower of ours, TWEET about it for an extra entry anyways :) Just be sure to include @RockerByeBaby in the tweet so we get it!
#4) Write a blog about this giveaway and link back to this review. Leave an extra comment with the link to the blog.
#5)
Fan RockerByeBaby on Facebook...
Read more →
---
---