OKay, so I hate to do it... but I gotta... part of me says Amber *slaps on wrist* you can't pick yourself to be the item of the day... but the other part says HEY! i make cool stuff and work hard too! haha so my inner devil took over, as always... and here I am... with the RockerByeBaby item of the day.... but, I assure you wont be disappointed...
I love this blanket... it is my FAVORITE thing I have made in the store yet, to date... its so bright and colorful, and keeps popping up in my etsydarkteam searches saying... pick me... pick me!! So i did... but here is my deal to you... if you buy this blanket, and tell me that you found the listing on the Dark Side blog... Ill give you $5 off... just for being awesome... Sound fair? Here she be...
Description:
Oh Wow...
A OOAK RockerBYeBaby Exclusive...
You wont find this ANYWHERE else...
This blanket REALLY takes RockerByeBaby to a whole new level...
We have never had anything so "fancy" in the store before...
First of all, this blanket is a whopping 30x43 inches... HUGE!
Perfect to lay out for a blanket in a crib... its almost the exact size...
The top layer is a fabulous high quality Michael Miller print "guitar Picks"
its my all time favorite print on the market...
The other side is an AWESOME purple and pink monster fur...
the purple has pink tips!!
Its amazing...
and the pictures do not even come close to seeing how amazing this blanket really is...
This blanket is great for snuggling...
it also can double as a play mat...
and would be PERFECT for a little preschooler/kindergardener to take to school and use as their nap mat...
www.rockerbyebaby.etsy.com
myspace.com/rockerbyebaby
Thanks guys!!
RockerByeBaby
Read more →
---
They talk about their awesome baby gear!So put daddy out of his misery and stop making him carry all the cheesy baby stuff...get him so rad RockerByeBaby gear...
For starters...The all new design, by me, for a changing pad...Each one has a layer of snuggly silky soft faux fur...a layer of ultra absorbent batting (and squishy for the baby bum)...and a layer of a rockin cotton print. A ribbon sewn into the ends (about a million times for strength)So no more bulky items in your bag...This approx 12-14 in. wide and 20-22 inches long item...folds in half and rolls up teeny tiny...tie your ribbon throw it in the bag and off you go...have an accident? *no not you... the baby duh!*throw it in the wash... tumble dry on low or no heat...and your ready to go again!Low maintenance... very functional...yeah i said it... this item is fashionable AND functional... :)enjoy!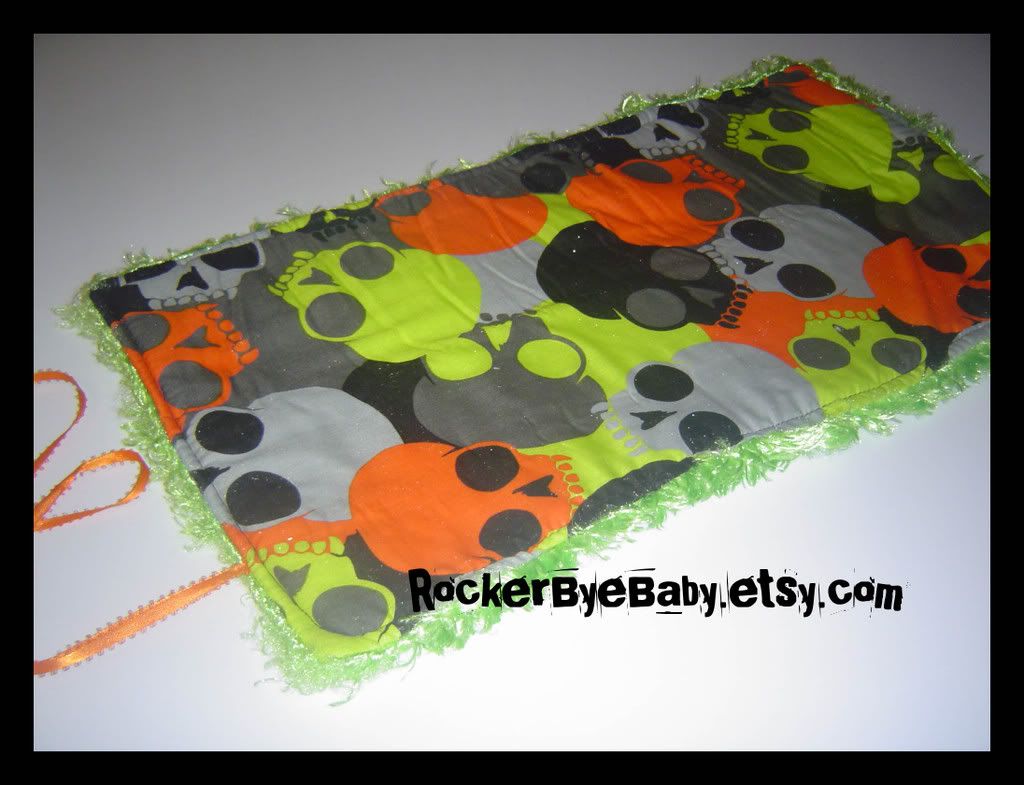 Read more →
---
---