Well isn't that perfect...
No more DiyScene and the NEXT day... i got my approval from EtsyKids.
WOOOOT WOOOT!
Id been on the waiting list for months! and now its my turn :)
So heres my first contribution!!
Click the graphic to check out the EtsyKids website.
In that site you can find all the fantastic kids sellers.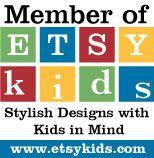 ALSO... go to www.etsy.com
and search EtsyKids Team
to find alllllllll their items ready to buy with a click of the mouse :)
A sneak Peek for you...
Kate Emerson Designs
HappyBabyyandBeeyond
Small Threads
RockerByeBaby
oh now thats just adorable!! Oh wait... thats me :) tee hee hee...
So yeah... proof theres lots of good stuff!! SOOOOOO CHECK IT OUT!